The Southcliff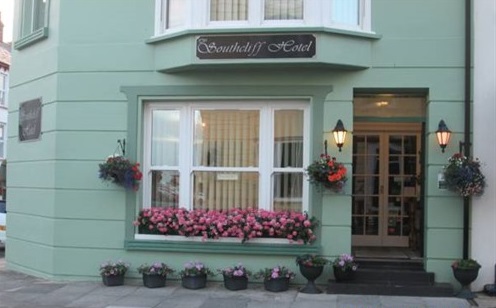 Welcome to The Southcliff Hotel Tenby a Victorian building built in 1879. One street down from the beach front.
We offer the traditional Bed and Breakfast experience in a family friendly environment. A large public car park is just around the corner and the Train station is close by.
In just two minutes you can be on the sands of the South beach or wandering through the walled town of Tenby.
A large spacious lounge is at your disposal where you can relax comfortably after a day out and there is a toy room down stairs to keep the under 8s entertained. Breakfast is in the dining room, where you help yourself to cereals, juice and fruit. Coffee or tea is served at the table with a rack of toast and a pre-ordered cooked breakfast will be ready when you are.
On arrival, you will be shown to your room and left with the keys, one for your room and the other for our large black front door, so you can come and go at your pleasure. We are a family oriented Bed and Breakfast and expect all our guests to show a high level of mutual respect to other guests.
The medieval town walls are only a minutes' walk away and once inside the walls there is a labyrinth of shops and restaurants to discover, walk down to the harbour and you can book a boat trip to Caldey Island to see the monks or try your hand at fishing on a mackerel trip or go on a trip around Caldey island to see the seals. For the walkers, there is a lovely walk out to Saundersfoot hugging the coastline and a regular bus for an easy ride back.
There is the natural beauty of the sea shore and to watch the sunset in summer is unforgettable. All the beaches of Tenby have been awarded blue flag status so grab a bucket and spade and enjoy the simple things in life or you can get fitted with a wet suit and get on a body board to enjoy the waves. Tenby offers a wide range of entertainment for any age and the Southcliff Hotel is a well-located base for a holiday or break.